Petter Eldh & Christian Lillinger
FAQ Festival Friday
Soundscapes & Electronics
Podium Azijnfabriek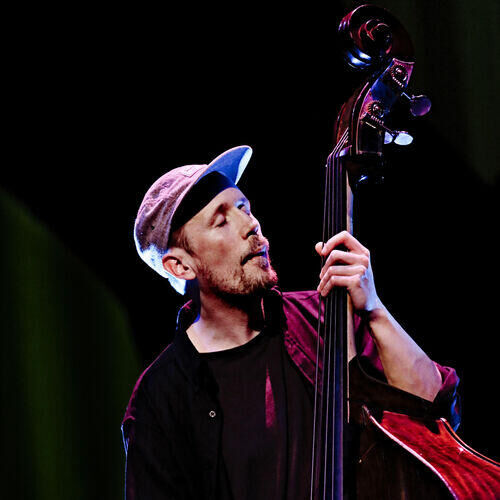 FAQ is een driedaags festival voor elektronische muziek dat plaatsvindt op diverse locaties in 's-Hertogenbosch. Tijdens FAQ hoor je de veelzijdigheid van elektronische muziek, variërend van elektro-akoestisch tot de meer club georiënteerde genres. Zowel zitconcerten als een clubnight staan op het programma met optredens van grensverleggende componisten uit de vroege dagen van de elektronische muziek alsook van die nieuwe generatie muzikanten. Sinds 2021 hebben FAQ Festival en November Music de krachten gebundeld.
Petter Eldh & Christian Lillinger
Petter Eldh was obsessed with Jazz, Classical, Soul, Reggae, Swedish folk music, Middle-Eastern and Hip Hop at an early age and collected vinyl since the age of 7. Long-standing collaborations include the following erratic and progressive forces: Django Bates Beloved (ECM records), Enemy (Kit Downes/James Maddren), Jameszoo, Otis Sandsjö (Y-Otis), Lucia Cadotsch Speak Low, Hayden Chisholm, Gard Nilssen, Peter Bruun, Christian Lillinger, Benoit Delbecq, Jonas Kullhammar and Kaja Draksler. As a producer he has remixed work by Jaga Jazzist - The Shrine (Brainfeeder), Jameszoo – Flake (Brainfeeder), DLW - Repurposing DLW (Plaist), Andromeda Mega Express Orchestra – Vula (Afterhours), Speak Low (Enja) and releases his own music on his own imprint Galatea Records and the Finnish label WeJazz Records where he's releasing albums with his band KOMA SAXO & Y-Otis. His latest album is called Projekt Drums vol.1 and was released by Edition Record in September 2021. It features drummers like Eric Harland, Savannah Harris, Richard Spaven among others.

Christian Lillinger started playing drums at the age of 13. In 2000, when he was 16, he was admitted to Hochschule für Musik Carl Maria von Weber. Since 2003 he has been living and working in Berlin. Collaborating with Craig Taborn, Joachim Kühn, Beat Furrer, Cory Smythe, Wadada Leo Smith, Barre Phillips, Miroslav Vitous, John Tchicai, David Liebmann, Mat Maneri, Tim Lefebvre, Peter Evans, Richie Beirach Ralph Alessi, Urs Leimgruber, Bob Degen, Alexander von Schlippenbach, Louis Sclavis, Rolf Kühn, Evan Parker, Ernst-Ludwig Petrowsky, William Parker, Joe Lovano, Benedict Klöckner and many more.
Timetable FAQ Festival