FAQ Festival Saturday
GOAT / Tot Onyx / Manisdron / Nik Void & Klara Lewis / Pak Yan Lau / YPY / Stef Veldhuis
Soundscapes & Electronics
za 04 november - zo 05 november
Diverse locaties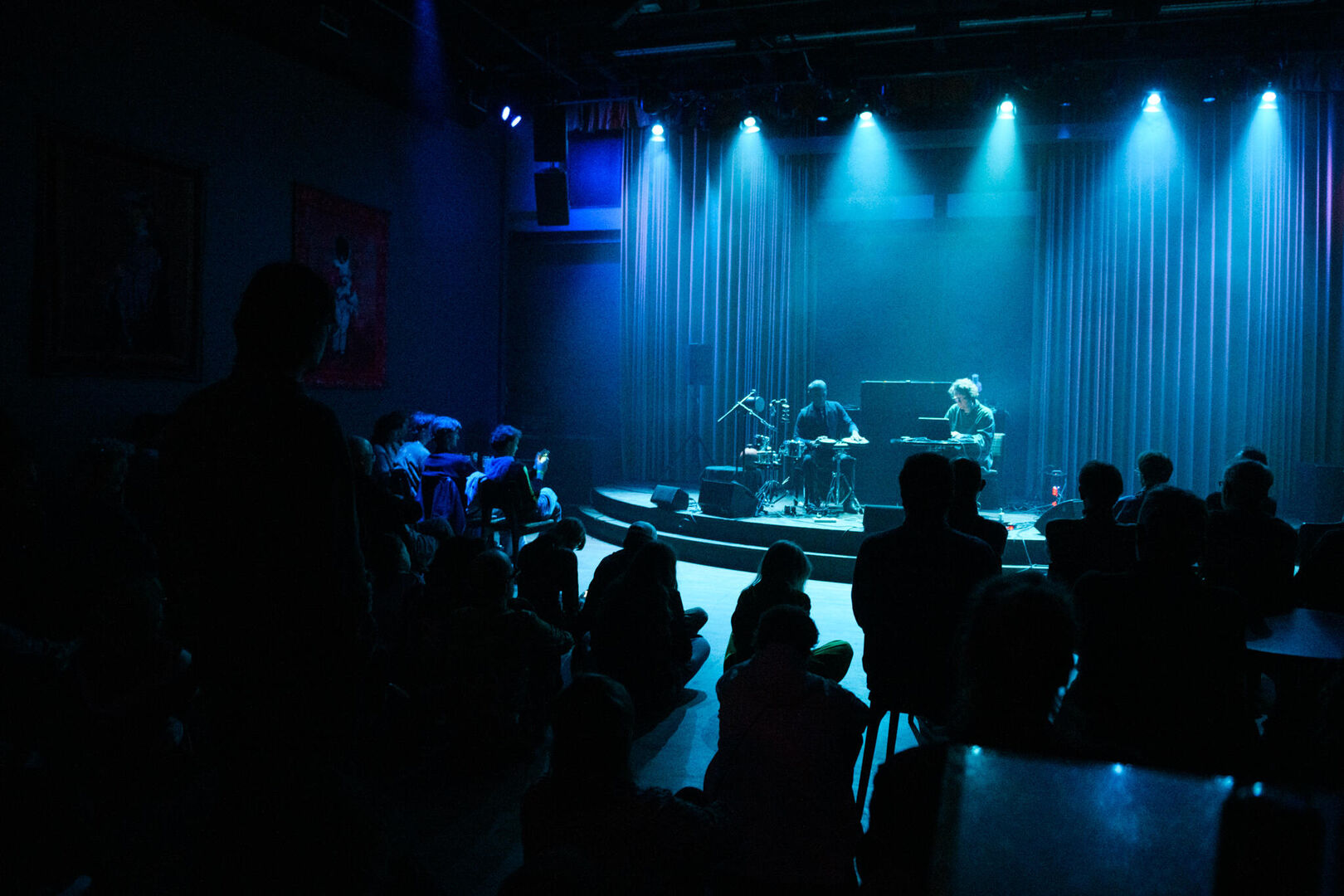 16.00-18.00 uur - Stef Veldhuis (W2 Kunstruimte)
19.15-20.00 uur - Pak Yan Lau (Verkadefabriek Kleine Zaal)
20.00-20.45 uur - YPY (Verkadefabriek Clubzaal)
20.45-21.00 uur - Nik Void & Klara Lewis (Verkadefabriek Studio Zaal)
21.00-21.45 uur - GOAT (Verkadefabriek Clubzaal)
22.00-22.45 uur - Tot Onyx (Willem Twee Poppodium)
22.45-23.00 uur - Manisdron (Verkadefabriek Clubzaal)
Hailing from Osaka, Japan, GOAT challenge the typical rock-band set up with their unique, intricate approach to minimalism, prioritizing pure percussive sound over melodic content. They build compositions that explore rhythms and bringing audiences into trance like fatigue. Utilizing harmonics outside standard tonality along with clever muting, GOAT craft complex, driven, forceful compositions which are both urban and tribal at the same time. Their percussion, for example, comprising of bass drum, snare and hi-hat with a muted bass for every string to hit with a punch.
The collaboration between Klara Lewis and Nik Colk Void somehow seemed inevitable. Both artists having seen their releases published by Editions Mego, individually carving out idiosyncratic voices in the worlds of extreme, abstract electronic music. Klara Lewis and Nik Void play ping pong with the conversation of sounds, generating ideas and bouncing them off each other, simultaneously encouraging the other to go further with their ideas opening up an opportunity to engage with previously unexplored terrain. Guitars, synths, euro rack modular systems, voice, sampling and outboard processing are folded in a playful unification with a propensity to tease, explore and extract new ideas and shapes, sometimes brutal, sometimes playful.
Manisdron is drummer Takafumi Okada of GOAT, straight from the depths of Japan. Fast paced, tense and focused motoric metallic drumming fueled by manic vocals which treads the line between the sonic equivalent of futuristic sci-fi nightmares or the remains of post apocalyptic metropolis' in flux. Full on intensity a bad trip in a seedy rock club, spiked drink stumbling, face hits ground glued to muck ridden floor boards, spinning out of control... eyes to the ceiling.. lights flashing as the music pounds you into an oblivion.
YPY is the solo project of Koshiro Hino. He runs Birdfriend, a cassette label that releases underground musicians from Japan and abroad, and NAKID, a label that releases contemporary/electronic music. He is a musician and composer for bands such as ``goat'' and ``bonanzas,'
Norbert Möslang is a Swiss musician in the field of free improvisation. Having played with musicians such as borbetomagus, otomo yoshihide, günter müller, erikm, jérôme noetinger, lionel marchetti, jim o'rourke, kevin drumm, jason kahn, Norbert also creates film scores with his score for The Sound Of Insects winning the Swiss Film Award for best film-score.
Since about 1990 Thomas Lehn's central artistical work is live-electronic music, created on the basis of analogue sound synthesis. After a period of working with the Robert Moog's minimoog synthesizer, since 1994 his main electronic equipment is the Synthi A modular analogue synthesizer combined with the DK-2 keyboard, both developed and produced by the British company EMS in the late 1960ies. Thomas Lehn's electronic music is instrumentally live-performed. Musical material, process and structure are created and performed in real time.
Formed in 2012, Tot Onyx is exploration of breaking the preconceptions of live performance by incorporating use of the body, live-painting, noise and poetry, was met with great enthusiasm and excitement from small art spaces to established festivals, such as Berlin's Atonal. Adept at bending expectations, both live and on record, the band's formative early work echoes the experiential vocabulary in which Tommi continues to develop today. A practice in the rejection of tradition and cliché, which in Greil Marcus's words, '...share the principles of negation, rebellion, destruction and détournement'. Tot Onyx's debut album 'Senno I' was released in October 2022 on iDEAL Recordings.

Born in Belgium, with roots from Hong Kong and now based in Brussels, Pak Yan Lau is a sound artist, improviser, musician and composer, who has developed over the years a rich, dense and captivating sound universe from prepared pianos, toy pianos, synths, electronics and various sound objects. Skillfully blending electro-acoustic approaches, she explores sound in a bewitching way, merging different sound.

Let's Paint TV is an American television show hosted by artist John Kilduff. At FAQ Festival John Kilduff will record his show for a live audience all 3 days.

A FAQ Saturday ticket includes access to the FAQ Clubnight (info)